Finally got my barrel back from the gunsmith. He did a great job and for those of us that like to shoot a lot of shot shells - this is a great way to get a barrel with more than one purpose.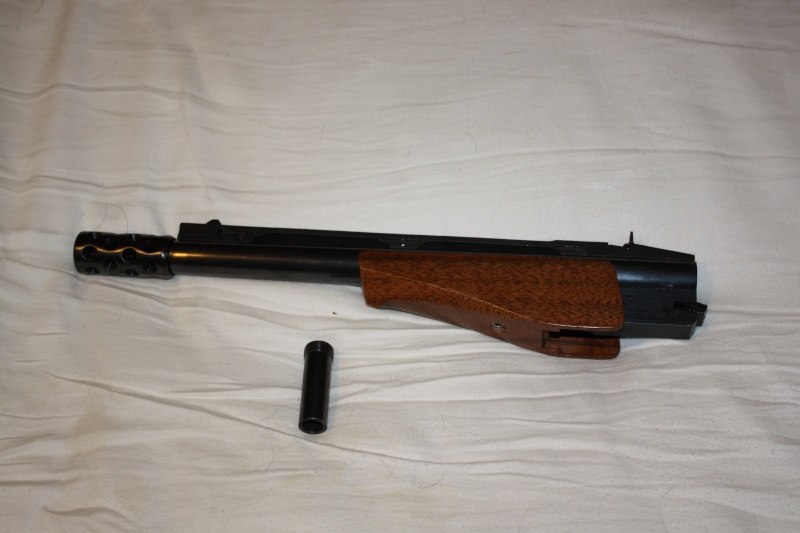 scorge30

Member





Posts

: 675


Join date

: 2010-11-27


Age

: 50


Location

: Marysville, WA



looks very nice....I like how the muzzle brake turned out.

_________________
You are finally comfortable with your casting capabilities when you find yourself casting boolits with sandals on!

hawcer

Mod




Posts

: 1896


Join date

: 2010-11-04


Age

: 45



Thanks I am looking forward to shooting it tomorrow as well. I have never thought that .357 mag kicks very hard, but loaded stiff with a heavy charge of H110 or 2400 it can have a bit of a snap to it.

I tend to like heavy bullets so normally load my .357 mag with 158 to 180 gr bullets with 158 being the lightest. My .357 Rem Max gets 180 to 215 gr bullets over a stiff charge of either RL7 or A1680.

The new muzzle break screws in like the choke does, but does not cover the factory muzzle break ports when installed.

scorge30

Member





Posts

: 675


Join date

: 2010-11-27


Age

: 50


Location

: Marysville, WA



that looks cool scorge i like it iv always been a fan of single shot rifles so the single shot pistol is very interesting to me iv always wanted a tc contender now iv got my eye on the rossi wizard i want the wizard in a rifle 30-06 and 454 casulle but when ever i get it im gonna order the pistol stock with a 243 barrel!
http://www.rossiusa.com/2011newcatalog/?catalog_page=12

dartfreak75

Member





Posts

: 1182


Join date

: 2010-11-21


Age

: 32


Location

: southwest va



I would really like to see some patterns with that thing. What do you use the shot shells for usually?

Ironworker78




Posts

: 20


Join date

: 2011-03-13


Age

: 38


Location

: Washington



Usually just pesty jack rabbits and the occasional grouse.

As long as it is within 25' it is a dead critter. It groups fairly tight but I have to take the muzzle break off and insert the choke otherwise it just goes everywhere but into the critter.

scorge30

Member





Posts

: 675


Join date

: 2010-11-27


Age

: 50


Location

: Marysville, WA



Similar topics
---
Permissions in this forum:
You
cannot
reply to topics in this forum